100% Satisfaction Guarantee Or Your Money Back.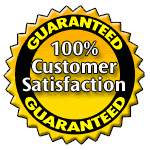 The MOST POWERFUL Lawn Service Maintenance Guarantee in All South Florida.
If for any reason you are not completely satisfied with the work we've done, the cleanliness and the attention to detail, I'll give you your money back. Even if you feel I gave less than 100% or behaved less than professional—I'll correct the problem immediately to your satisfaction or you don't owe me a single dime. I think that's fair, don't you think so? I've been told it's more than fair.
My goal is to build lasting relationships with my clients and the only way I know how is to provide a quality service at a fair price. This results in satisfied clients who refer their friends and neighbors.
Let me show you how easy it is to work with us and achieve the lawn you've always wanted.
Call me today at (561) 257-4200.
Tim Weber
BocaLawnCare.com
Lawn Service Boca Raton, FL